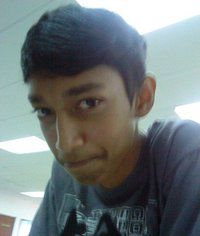 I'm Rethnaraj,19, an Indian Citizen living at Kuala Lumpur, Malaysia. Currently pursuing my studies at Stamford College, Petaling Jaya, Malaysia.
Started blogging since December 2008, I have several blogs that I've abandoned now and started concentrating on my new blog. Actually, I started to blog after saw one of my teachers in my secondary school blogging. He taught me to start a blog and how to post. And I started to learn editing and customizing the default blogger templates and making own simple templates by reading blogging tips websites in the net.
I have a great passion to help the new beginners step by step towards blogging because there are many out there who really need such help. Even though there may be many other websites and probloggers(of course, I'm not a problogger) out there in net with a better guidance, I have a personal interest to help the new beginners towards better blogging. You can contact me through contact form in this blog. But, the faster way of contacting me is via Facebook and Twitter.